N+1 Power Supplies Deliver High Integrity Power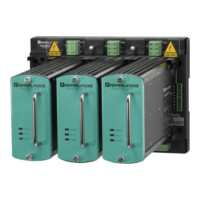 The N+1 redundancy of the Bulk Power Supplies guarantees system integrity and performance for process applications
Pepperl+Fuchs' PS3500 N+1 High Integrity Power Supply is designed for maximum efficiency and reliability in mission critical and continuous process applications. PS3500 power supplies feature a modular design with selectable wiring configurations, enabling them to be configured in N+1 redundant mode. N+1 redundancy guarantees system integrity and performance, even during module failure and replacement.
Honeywell's engineers and their customers responsible for continuous running processes, and critical applications where shut-downs need to be avoided at all cost, know that an unexpected power loss can bring operations to a halt resulting in a tremendous amount of lost revenue.
These 24 VDC, 15 A power modules plug directly into a 3- or 6-position chassis/backplane for maximum capacity of 45 A or 90 A, respectively. They are certified for Class I Div 2/Zone 2 and ATEX Zone 2 mounting. PS3500 modules are user-adjustable from 22.5 VDC to 30 VDC for precise voltage regulation. Universal supply voltage of 90-250 VAC / 90-300 VDC makes them easy to integrate into an application.
Please visit our global website to see all available PS3500 N+1 High Integrity Power Supplies.