Flexible and versatile remote I/O module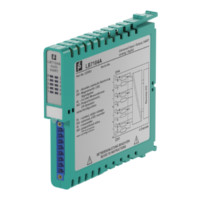 The LB7104 is a configurable universal module with 4 channels for use in Zone 2, Zone 22, Div. 2, or safe areas
Supporting Honeywell's strategy to drive the Universal I/O into the market, Pepperl+Fuchs has developed the Universal Input/Output (LB7104) for the LB remote I/O system. The device is a configurable universal module with 4 channels for use in Zone 2, Zone 22, Div. 2, or safe areas. Each channel can operate in the following modes:
As an analog input (AI) it feeds 2-wire transmitters
As an analog output (AO) it can drive proportional valves, I/P converters, or local indicators
As a digital input (DI) it reads dry contacts
As a digital output (DO) it can drive solenoids, sounders, or LED
A combination of analog and digital I/O is possible as well. Channel LEDs indicate the status of each channel. White LEDs indicate whether AI, AO, DI, DO are selected. The intrinsically safe signals are galvanically isolated from the bus and the power supply.
Visit the website of Pepperl+Fuchs to get the full documentation, and all the details on the Universal Input/Output (LB7104).